ROYAL MO
"A big, strong colt that everyone who saw him – from the time he was born up to the time he sold as a yearling – loved him"
Pam Robinson – Brandywine Farm – breeder
Bred by Brandywine Farm (Jim & Pam Robinson) in Kentucky, ROYAL MO was the joint-third highest priced yearling from UNCLE MO's second crop when selling for $300,000 on Book One of the Keeneland September Yearling Sale in 2015.   The buyers were the same connections that selected, acquired, trained and raced the the legendary Zenyatta: with both horses identified and selected by renowned bloodstock agent David Ingordo, for owners Mr & Mrs Jerome (Jerry) Moss, and to be trained by John Shirreffs.
An exceptionally handsome colt, who would reach 17 hands, ROYAL MO was given the time to grow into his imposing frame, and started only three times at two – second in his first two races, he closed his 2yo year with a win, showing excellent speed, from the start, to lead at every call, and score comfortably over 8fl (1600m) at Delmar.
At three, ROYAL MO debuted in the Robert B. Lewis S.-G3 over 8½fl (1700m) at Santa Anita, where, again, he led at every call, scoring comfortably by 3½ lengths over Irap (who went on to become one of the top 3yo of 2017 – winning three Graded Stakes and banking over $1.6m).
Now firmly on the 'Classic trail' ROYAL MO was unplaced for the first time in his next start, the Rebel S.-G2, but, following an equipment change, bounced right back with an outstanding run (despite his jockey losing his whip in the final stages of the race) to finish a close third, beaten less than a length by stable-mate Gormley, with Battle of Midway (subsequent Breeders' Cup Dirt Mile-G1 winner, and Kentucky Derby-G1 third) just half-a-length ahead of him. A point of note about ROYAL MO's run in the Santa Anita Derby; despite being beaten a length by Gormley, ROYAL MO, in the running, covered 31 feet (9.5m) more ground that the winner, and an incredible 42 feet (almost 13m) more than Battle of Midway!
Now one point short of a berth in the Kentucky Derby-G1 line-up, ROYAL MO was aimed at the second leg of the Triple Crown, the Preakness S.-G1 where all of his connections were more than a little confident that the big colt would run a huge race.
Fate, however, had different plans!
On the Sunday prior to the Preakness, just six days before the race, ROYAL MO's career came to an abrupt end; as reported in the Blood Horse that day: "A world of hope and promise for Royal Mo came to a halt with a guttural yell from jockey Gary Stevens as the colt approached the Pimlico Race Course quarter pole May 14. In his final timed workout in preparation for the Preakness Stakes (G1), Jerry and Ann Moss' Uncle Mo colt was going well during his drill, as he moved alongside a workmate in the turn, but Stevens heard a loud "pop" later in the bend. "Initially I thought he just overreached and hit himself, but then there was a loud pop," Stevens said. "Unfortunately, when he hit the ground next, I knew he didn't hit himself. He was just towing me around there, having a brilliant work. Then I heard it coming out of the turn. He looked after me and I looked after him." After Stevens pulled Royal Mo up, the Hall of Fame rider who flew in from Southern California to work the colt jumped off his mount just inside the three-sixteenths pole on the Pimlico main track. Stevens immediately went down to hold Royal Mo's right-front leg off the ground as trainer John Shirreffs rushed down from the grandstand. (Blood Horse, 14 May 2017)
"It's very difficult. There were a lot of hopes and dreams with Royal Mo from Mr. and Mrs. Moss and my wife, Dottie. They were all excited to see him run, so they're obviously devastated."
John Shirreffs – Trainer
ROYAL MO had suffered a fracture of the inside right-front sesamoid and was rushed to the New Bolton Center where he was operated on (joint arthrodesis) by world-renowned surgeon Dean Richardson.
Simultaneously with the news of his injury, South African bloodstock broker Alistair Brown (Equarius Bloodstock), who had been keeping tabs on ROYAL MO, reached out to the connections of the colt to initiate dialogue that could hopefully lead to this exciting colt eventually retiring to South Africa for stud duties.   Brown, who introduced the likes of Fort Wood, Al Mufti, Goldkeeper, Ideal World, and other sires to South Africa, points out that it is often an injury like this that makes such a high-class individual an option for this country – adding that Fort Wood also suffered a fractured sesamoid that ended his racing career, as did breed-shapers such as Mr Prospector, Hail To Reason, Mill Reef, and Sir Gaylord!
ROYAL MO's exceptional temperament and 'laid back' approach to things made him a perfect patient, and his recovery at New Bolton, and then at WinStar Farm in Kentucky, was uneventful – the whole time with discussions in progress between Alistair Brown, the connections, and interested parties in South Africa.
ROYAL MO is currently in Europe where he is spending the required 60 days 'quarantine' before shipping to South Africa in February.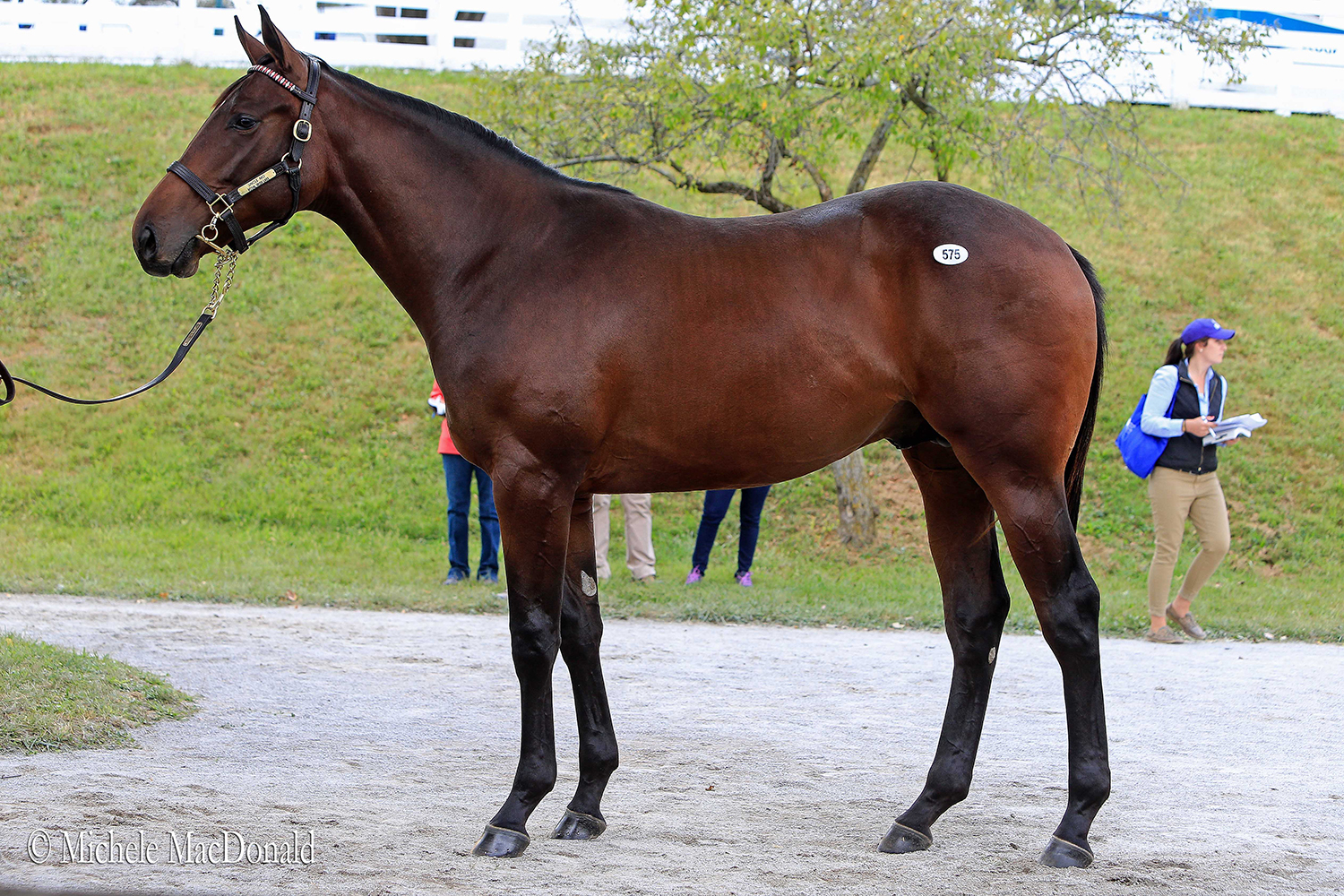 ROYAL MO photographed as a yearling in September 2015
(Photo: Michelle McDonald)
"If anybody doesn't like ROYAL MO then they don't know horses!"
David Ingordo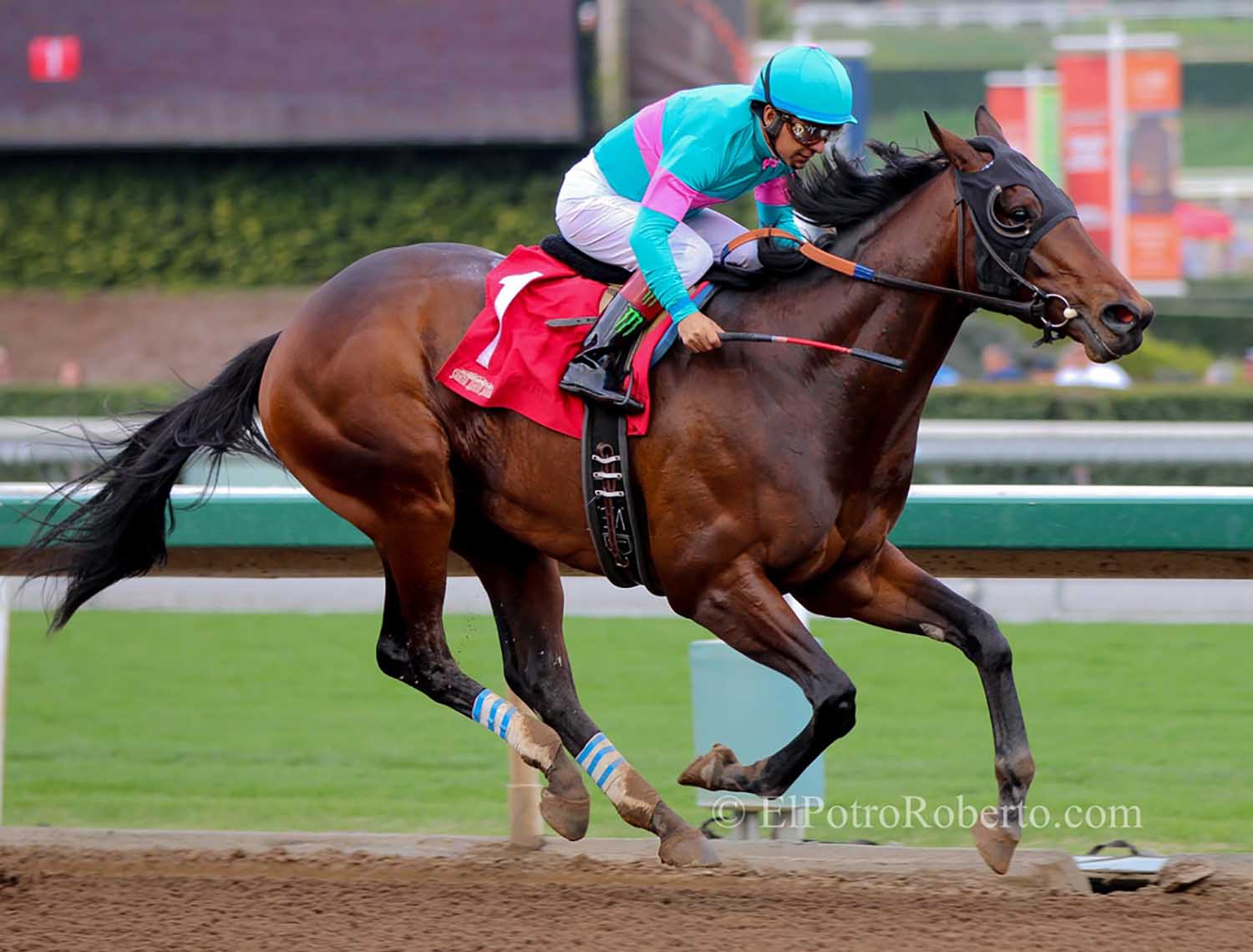 ROYAL MO winning Robert B Lewis S.-G3
photo ElPotroRoberto.com
"He was going better than he was [in his workout] before the Santa Anita Derby … I was getting goose bumps down my neck." 
(Hall of Fame' jockey Gary Stevens speaking after ROYAL MO's final workout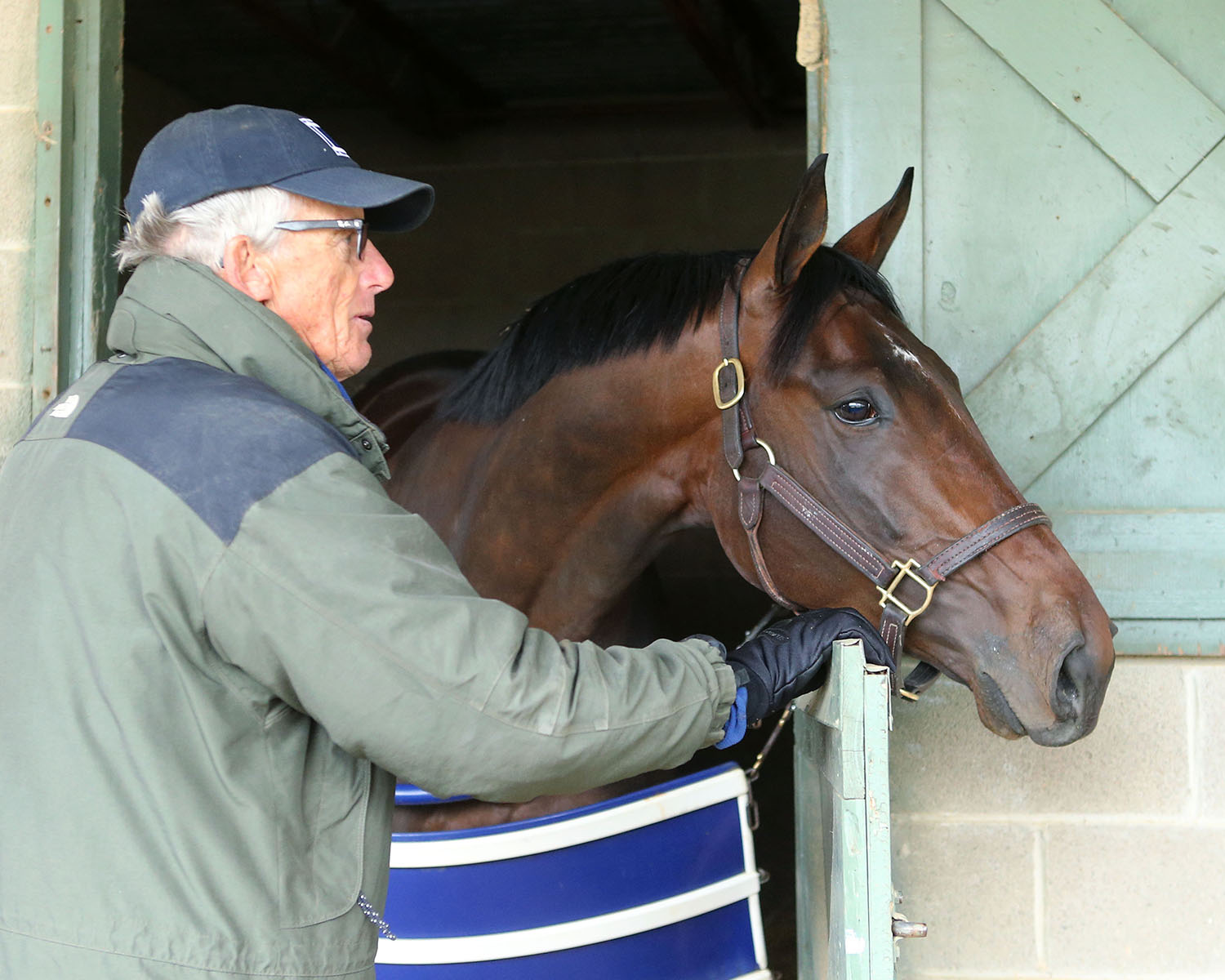 Trainer John Shirreffs with ROYAL MO at Oaklawn – Spring 2017
Photo: Coady Photography