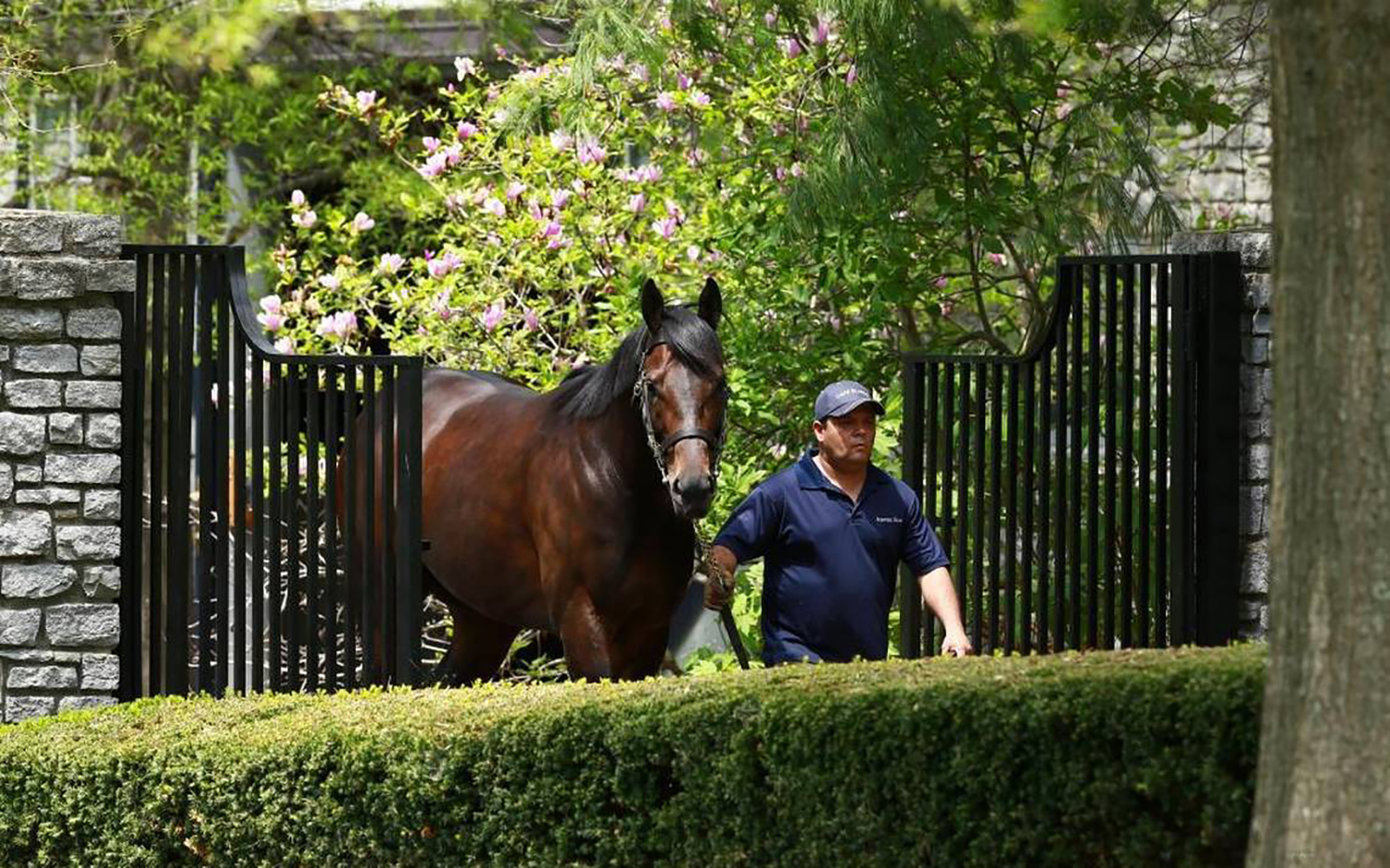 UNCLE MO on his way to the breeding shed
Photo: Coolmore
"The hottest young sire on the planet"   and " No stallion in my long memory has made a more sensational start at stud than Uncle Mo" 
John Sparkman, DRF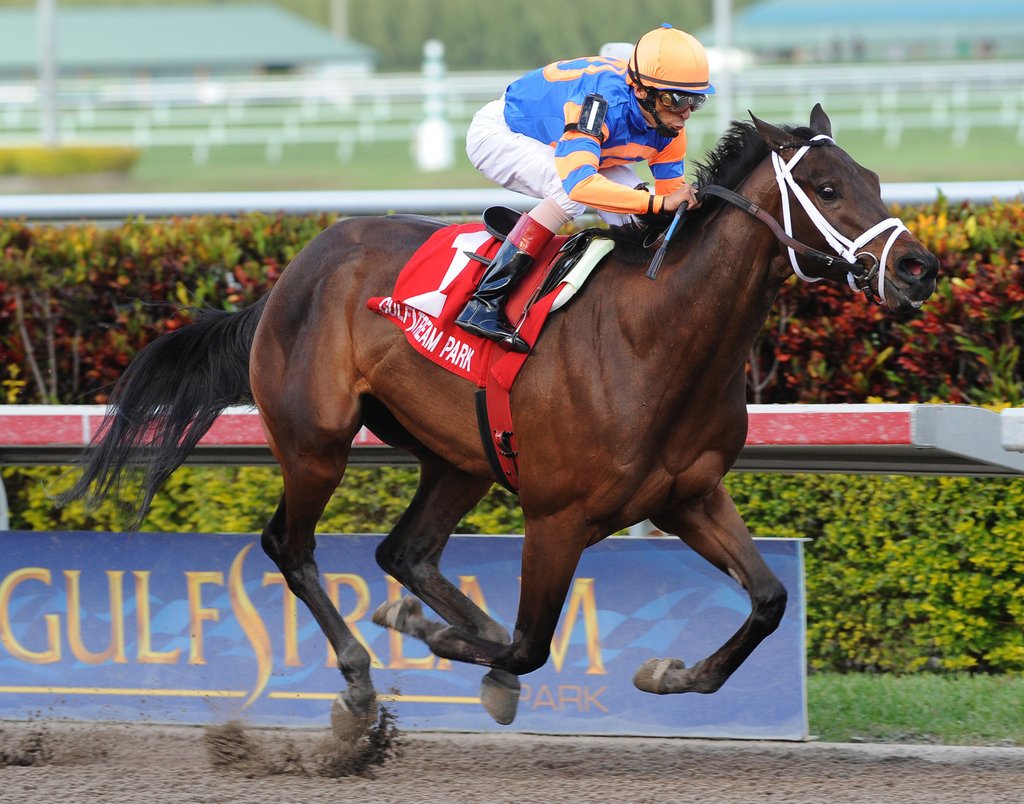 The early Derby favorite Uncle Mo, with John Velazquez, won the Timely Writer Stakes by three and three-quarter lengths.
CreditCoglianese Photos/Gulfstream Park, via Associated Press
UNCLE MO
"it's clear that Uncle Mo is about to rise into some distinctly rarified air, into a zone where perhaps one only finds War Front and Tapit among current U.S. sires." 
(Alan Porter, pedigreeconsultants.com)
UNCLE MO who was described by his trainer, Todd Pletcher, thus: "I think his 2-year-old season will go down as good or better than any 2-year-old season we've ever seen. To do what he did in a short window of time, to run as fast as he did, and do it as impressively as he did was special. We've been blessed to have had a lot of good 2-year-olds, none of them accomplished what he did."
UNCLE MO, undefeated at 2yo, capped his brilliant 2-year-old campaign with a dominant 4¼-length victory in the Breeders' Cup Juvenile at Churchill Downs, assuring him of Champion 2-Year-Old honours. He was retired after a liver ailment seriously impacted on his sophomore year, and he wasted no time in showing that his ability as a racehorse was something he was going to pass on a sire!
An astonishing, record breaking Champion Sire of 2yo's with his first crop racing in 2015, UNCLE MO has garnered praise from internationally respected doyens of the Bloodstock industry:
"The sort of start Uncle Mo has made, it equates so far to how that sort of sire – Danzig, Storm Cat, A.P. Indy – started at stud"
Bill Oppenheim, TDN
Already the sire of a record 24 SW's from his first crop, UNCLE MO's top performers include: Nyquist (Champion 2yo of 2015. Kentucky Derby-G1 Florida Derby-G1, Breeders Cup Juvenile-G1, Frontrunner S.-G1, etc); Mo Town (Hollywood Derby-G1 etc.), Dream Tree (Starlet S.-G1,etc.), Gomo (Alcibiades S.-G1, etc.), and Outwork (Wood Memorial S.-G1, etc.) and siring Graded Stakes Winners on both dirt and turf, he is now a stallion who cannot be overlooked by any serious breeder.
For a full list of UNCLE MO's Stakes Performers, please click here: UNCLE MO
ROYAL IRISH LASS
"Wow!" and "Special"
ROYAL IRISH LASS was a daughter of Champion Sire Saint Ballado and the resolute turf galloper and millionairess Irish Linnet.
Apart from ROYAL MO, who breeder Jim Robinson recalls, as one who always elicited reactions "wow" and "special", ROYAL IRISH LASS has produced the Listed SW turf performer Tara From The Cape who also placed in the Breeders' Cup Juvenile Fillies Turf-G1 and the Alcibiades S.-G1, and is now in Australia where her 2915 colt (by Snitzel) fetched Aus$1,000,000 when sold at the 2017 Easter Yearling Sale.
ROYAL IRISH LASS' two most recent foals are a Malibu Moon colt of 2016 (sold for $650,000 at Saratoga in August 2017) and an Honor Code filly of 2017 (who was sold as a weanling at the Keeneland November Sale for $300,000).
Her sire Saint Ballado, who sired an outstanding 9.5% SWs/Foals and was Champion Sire in North America for 2005 – three years after he had been put down (at the age of only thirteen) after suffering complications from spinal surgery.   A Multiple Graded SW, with an impeccable pedigree and a full-brother to Champions Devil's Bag and Glorious Song, one can only imagine what he could have accomplished had he not been lost to the bred at a relatively young age. Saint Ballado has also become an important broodmare sire, with his daughters already producing over sixty individual Graded SWs including the six-time G1SW Lady Eli
ROYAL IRISH LASS' dam, IRISH LINNET, was unique!
A tough Multiple Graded SW turf miler, and winner of 19 races and $1,220,180, IRISH LINNET earned a place in Saratoga history when she won the Yaddo Stakes for five consecutive years, and is believed to be the only mare to have ever won any Stakes race five times in a row!
As a broodmare, apart from producing the dam of ROYAL MO, IRISH LINNET also produced SW sprinter/milers Irish Art and Blushing Irish.
For an annotated catalogue style damline for ROYAL MO, please click here: DAMLINE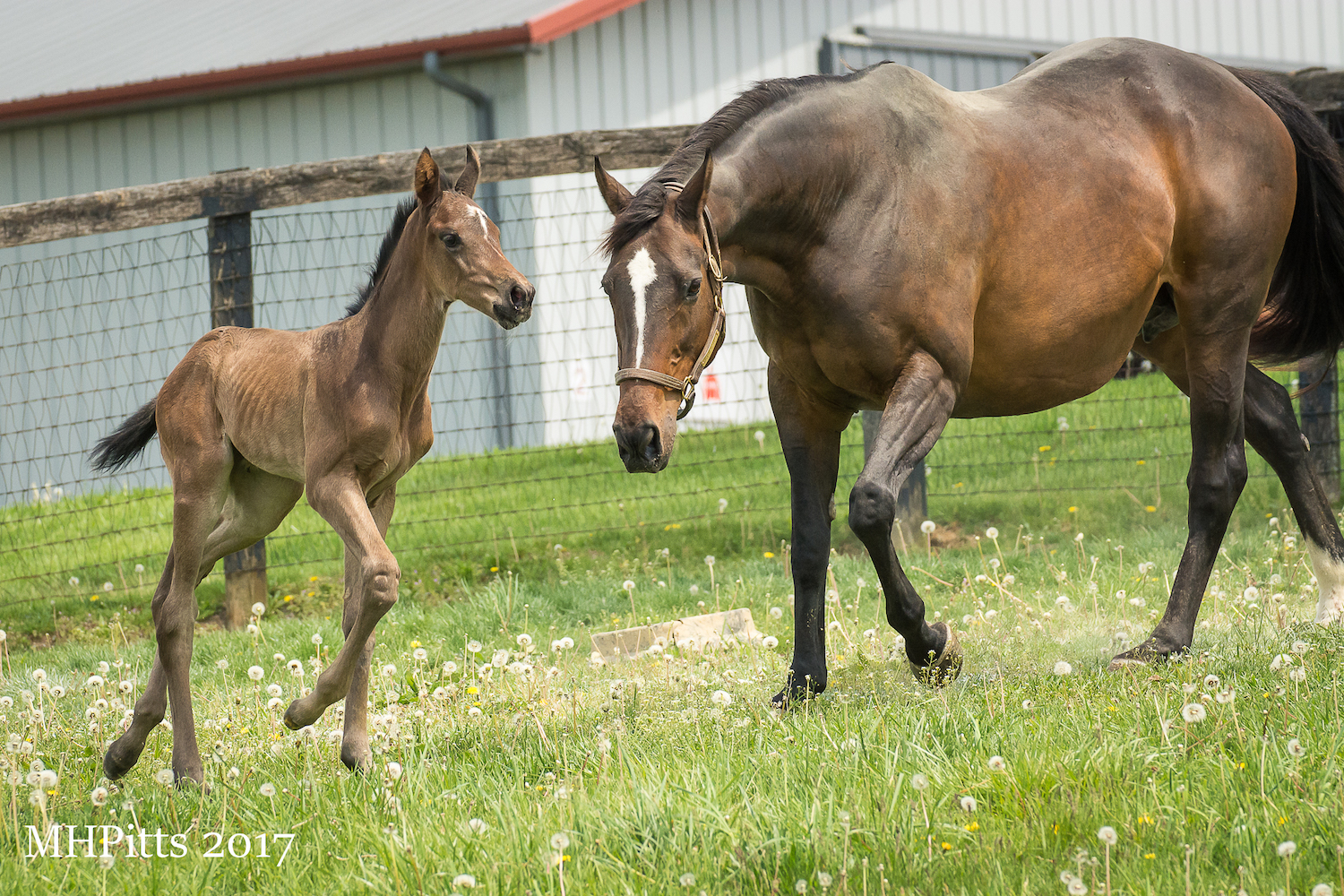 ROYAL MO's dam Royal Irish Lass, with her 2017 Honor Code filly
Photo: Michelle Pitts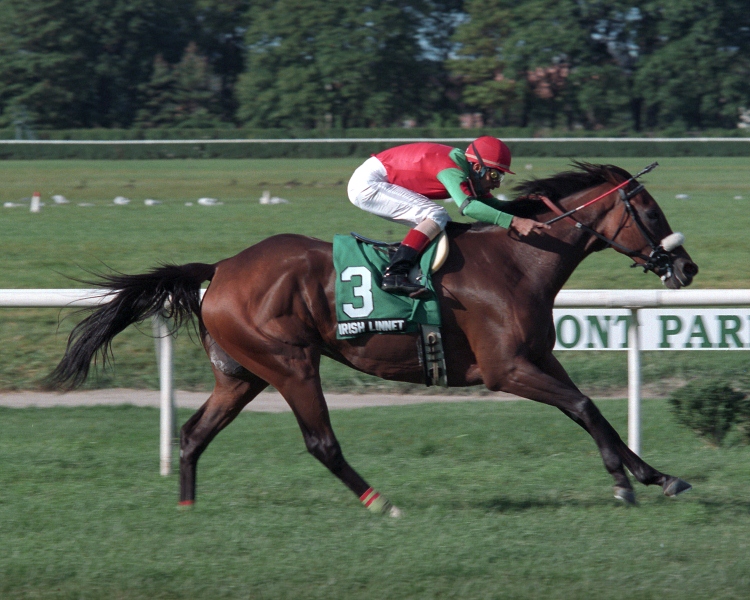 ROYAL MO's granddam IRISH LINNET winning the Noble Damsel S-G3 at Belmont Park in 1994 (she won the 1995 running as well)
Photo: Bob Coglianese
"One of my all-time favorites … "
Eclipse Award winning photographer Barbara Livingston – discussing Irish Linnet